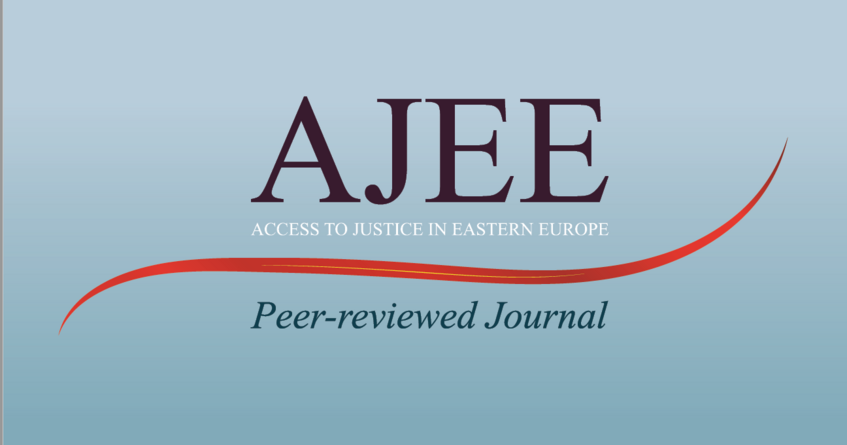 Access to Justice in Eastern Europe (AJEE) is one of the leading academic journals in Central and Eastern Europe, which was founded in 2018 by East European Law Research Center, a voluntary society that brings together academics and practitioners who are interested in legal research.
The main aim of AJEE is to offer a forum for discussion of topical issues of Judiciary and Civil Procedure reforms, for sharing research results related to the development of access to justice in East European countries, including Ukraine, Poland, Lithuania and others. This scope has been chosen due to special mixed features of post-socialist legal doctrine's legacy and Western influence, as well as the legislative approximation to the EU law.
We are proud to have well-known scholars from all over Europe among our Editorial Board Members, who represent most of the European states - to name but a few: Prof C.H. Van Rhee, Prof Alan Uzelac, and Prof Elisabetta Silvestri.
AJEE is an Open Access double blind peer-reviewed journal, recognised by the academics and indexed in Web of Science Core Collection, ESCI.
We welcome research articles, especially young academics' essays, as well as case notes published on the most important recent decisions on procedural law from the jurisdictions of East European states, the European Union and the European Court of Human Rights, all of which influence civil procedural law and practice. AJEE also shines a spotlight on ongoing reforms, aimed at providing a fair and just trial and maintains a Reform Forum for discussing the most recent reforms, in particular draft proposals, law amendments etc.
We invite all interested parties, including academics and practitioners, who may represent and provide useful and well-argued positions for cooperation and publishing!